Why Run in the 10th Annual 2018 Buddy Run 5K?
Obviously, for the fun, fitness and comraderie you will enjoy during your stroll or run through a friendly Heritage/Wake Forest neighborhood.

BUT MOSTLY, because this is

one of the primary fundraising events benefitting the North East Wake Backpack Buddy Program,

and everyone who participates can make a difference by helping to provide weekend meals and snacks to children who might not otherwise have food on the table.
Join us Saturday, Sept. 15, 2018 (start time 8:00am)
Come out to Heritage and run or walk on an out-and-back neighborhood course that will help you start off a late summer day in the right way! With mid-September morning temperatures in the Triangle averaging in the mid-60's it will be perfect conditions for some friendly competition or just to walk and talk with your friends and family.

The event is stroller-friendly and pet-friendly so don't worry about getting a babysitter or dogsitter - we don't want anyone in the family left behind!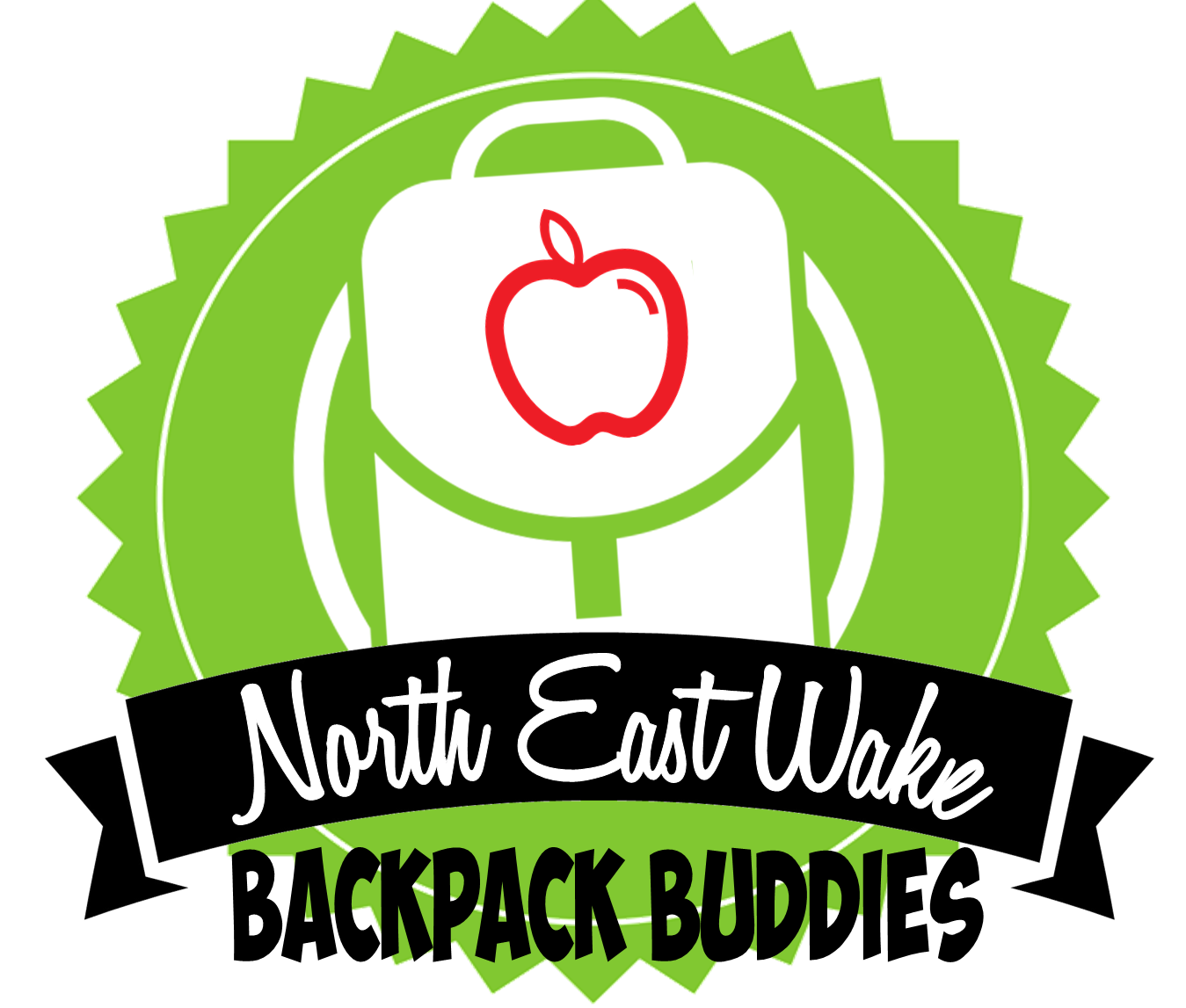 Race Day Schedule
The 10th Annual Buddy Run is Saturday, September 15, 2018 with festivities running from 7am-10am. There will be three events to choose from, so everyone in the family can participate!
8:00am:

3.1mile (5K) chip-timed run/walk and the

1mile run/walk (not timed)

9:15am: F

REE Itty Bitty Buddy Dash 25 meter dash for runners 5 & under

9:20am: Awards
Course Description
The starting line is right in front of Discovery Point on Thompson Glenn in Heritage Wake Forest. Continue through the round-a-bout following Heritage Links to Marshall Farm. Turn left on Marshall Farm and go up to Hartsfield Forest where you turn left. The aid-station and U-turn is at the end of Hartsfield Forest; return and come on back.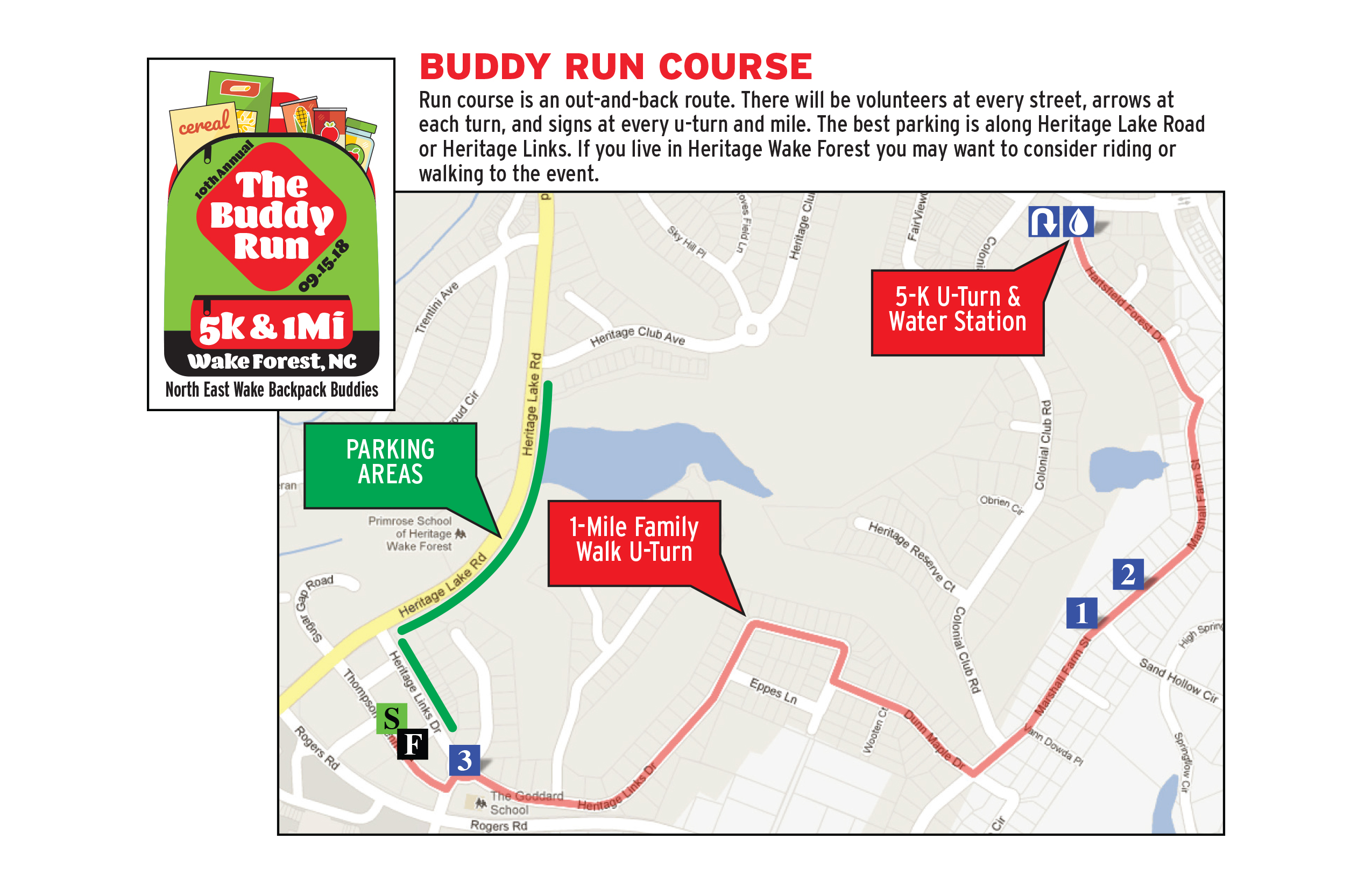 At the half-way point for the 5K, you will find a sponsored aid station with ice cold water and maybe some special fun!

The 5K course is USATF certified and sanctioned, therefore bicycles, tricycles, skates, boards, or scooters are not allowed.
Race Amenities
Runners will receive the official 2018 Buddy Run T-shirt and a finisher's medal - well, a finisher's dog tag! All runners will also get plenty of water and refreshments at the finish line, and children will be able to enjoy extra fun at the Post-Race party.
Post-Race Party
Our post race party is kid-friendly with free face painting, a bounce house, a kids fitness adventure station, sidewalk chalk, coloring books, games, and snacks.
Food Drive
We ask that everyone attending our event (runners, volunteers, and spectators) please bring a food item to our race weekend food drive. While you are running, the North East Wake Backpack Buddies will be organizing and dividing the food so that it can be distributed to feed our local children.

This is a great way to get children of every age involved in community service. Every child understands what it feels like to be hungry. Take them to the store and give them $5 to purchase items for the food-drive.

Not sure what to buy? See the list of food here for an idea. Monetary donations are also welcome!
Awards
The top three overall male and female winners will receive a special award from Run N Tri Outfitters.
The top three overall male and female masters winners will receive a special award. (More information to follow)
The top three male and female athletes in each age group will also receive awards.
Age Group Categories for Men, Women and Children
Special Categories for Children:
8 and under; 9-11; 12-14
Yummy, fun awards from Sweeties Candy Shop in Wake Forest.

Men and Women Age Groups:
15-19; 20-29; 30-39; 40-49; 50-59; 60-69; 70+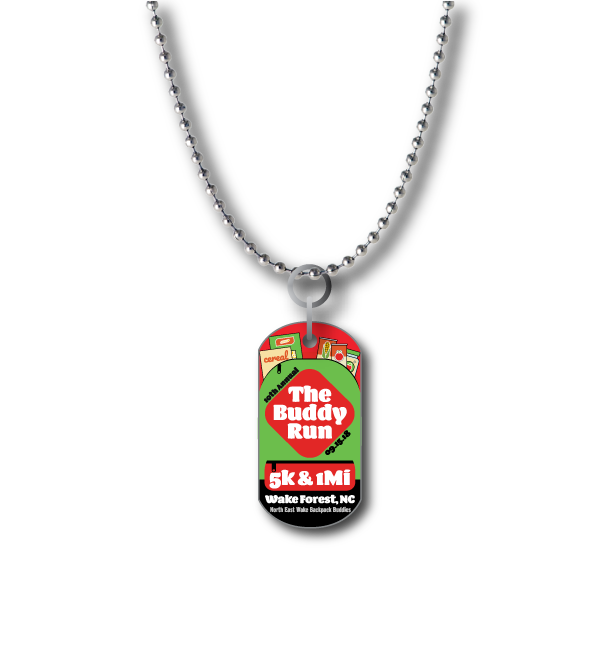 Medals a.k.a. Dog Tags
The Buddy Run has a long-standing tradition of dog tags. We've been doing the race for 9 years and for the last 7 we have had dog tags for every finisher.

What do you do with your dogtag? Put it on a keychain, hang it from your rearview mirror, or add it to your collection of race medals! It aso looks perfect on your kid's backpack. Hardware is hardware, right!